Product
Overview
---
Introducing StitchKit®, a pre-loaded Suture Delivery Canister designed to facilitate suturing in Robotic-assisted minimally invasive surgery.
While using a surgical robotic system, the surgeon must rely on skilled assistants to transfer sutures in and out of the surgical field. During these exchanges, needles can cause injuries and / or be dropped and misplaced inside the patient.
StitchKit® is designed to allow the robotic surgeon to manage all aspects of suture use and needle disposal without the need of an assistant.
Advantages
StitchKit® is designed to:
Improve safety by eliminating exposed needle transfer and providing a visible, secure area to capture used suture needles.
Increase surgeon autonomy as individual sutures no longer need to be passed one at a time.
Enhance efficiency by delivering six sutures at once, which can be rapidly accessed when needed.
Allow surgeon to reduce assistant port size or even eliminate assistant port entirely, which could result in less post-op pain.
StitchKit Videos
See the StitchKit® in clinical procedure videos by clicking here .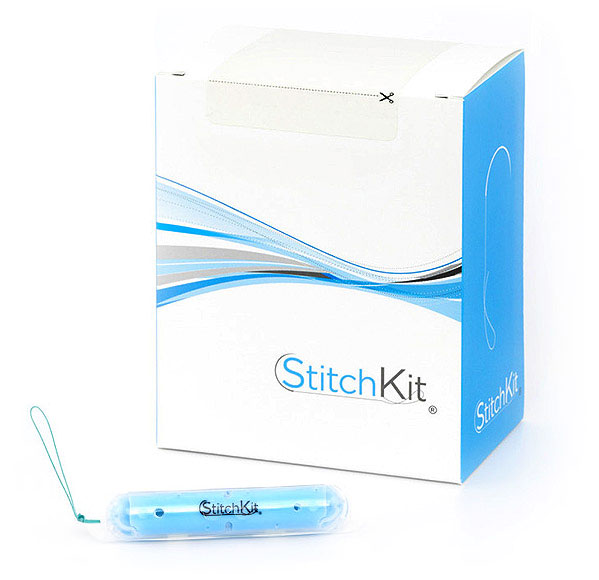 Clinical Use
StitchKit® facilitates minimally invasive robotic surgery by transporting suture to the operative field via a uniquely designed canister. The canister held by one of the two tabs with a robotic grasper, and is inserted through a ≥ 12 mm trocar, safely delivering 6 sutures at a time.
Once inside, the surgeon opens the canister by gently twisting the two larger tabs on either end of the device. This reveals a suture holding compartment, which stores the six sutures. A suture is then removed by grasping one needle and gently pulling the suture out from the canister. Repeat for all sutures within the device as needed.
Each used needle should be placed into the StitchKit® sharps container blunt end first via either of the two trap doors. To remove StitchKit® from the surgical field, the surgeon should close the device using the tabs on either end using the robotic needle holders, until the device is obviously closed. It can then be transferred out through the trocar.
StitchKit® Description
---
Instructions for Use
To view the StitchKit® Instructions for Use, click here.
What is it?
StitchKit® is a sterile, single-use canister that contains six strands of PTFE suture with attached needles. It is indicated for use in all types of soft tissue approximation, including gynecologic, cardiovascular and general surgery.
The canister is designed to be easily inserted and withdrawn from the surgical field through a ≥ 12mm trocar cannula. The six sutures are stored in a suture holding compartment within the canister to allow for fast and easy removal of each individual strand.
After each suture is used, the discarded needles are placed in the disposal compartment in the canister, which is clear, allowing for easy needle counting.
Suture Description
Each PTFE size CV-4 suture is a non-absorbable monofilament manufactured from polytetrafluoroethylene (PTFE). Each suture is approximately 21 cm, or 8 inches, in length.
Needle Description
Each needle is a TH-26, with taper point, ½ circle and 26m
FAQs
Please see our FAQ page.